How to Spot Hail Damage on Your Roof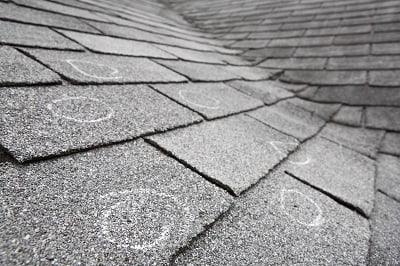 In certain parts of the country, such as Colorado, the threat of hail is just a fact of life. During hail season, Mother Nature can send hailstones crashing into our homes, causing significant damage. When this occurs, it's imperative to quickly assess your roof and take any steps needed to have the damage addressed. Otherwise, your home will be left vulnerable to even worse problems when the next storm rolls through.
How Hail Can Damage Your Roof
The amount of damage that hail does to your roof will depend on a variety of factors, including the size of the hail, the strength of wind in the hailstorm, the type of roof you have installed, and your roof's general condition. Hail the size of a dime may not do any meaningful damage, while hail the size of a walnut will almost certainly require significant roofing work. And strong winds will make a hailstorm significantly more damaging.
Some kinds of roofs withstand hail impacts better than others. When assessing your roof, you should also keep in mind that hail damage presents differently depending on the type of roof you have. Asphalt shingle roofs tend to show black spots where hail has struck the roof, as well as a loss of granules that makes the shingles appear shinier. If you have an asphalt shingle roof, check to see if there are granules in your home's gutters and downspouts. Significant granule loss is a clear sign that your home's roof has been weakened by hail damage.
Why to Seek a Professional Roof Inspection
Although it's certainly worthwhile to assess your own roof—looking for telltale signs such as black spots, granule loss, and cracks—you'll need a professional roof inspection to know for certain what the outlook is for your home's roof. A qualified storm damage repair professional can identify the full extent of the damage and document it to help ensure you receive proper insurance compensation. Full-service storm damage repair companies will also attend your insurance adjuster's meeting on your behalf to advocate for you, as well as help you navigate the insurance claims process so you don't have to do it alone.  Do not just sign with someone who shows up and knocks on your door.  Go online, look at the local BBB, and confirm the company that showed up on your doorstep is local with an outstanding reputation.
What to Expect From the Hail Damage Repair Process
Once you've identified the full extent of your roof's hail damage, you can move forward in addressing the problem. Typically, your homeowner's insurance will cover hail-related damage, and our team will help with the insurance restoration process.  We will explain how the full process works, re-write original adjustor reports if needed, and ensure a full understanding of what is being covered is complete before any work will begin.
Your experience during the hail damage repair process will depend largely on the company you hire. Beware of the "fly by night" contractors that will converge on an area after a major hailstorm. Instead, choose a company that you can tell does quality work and will be around if you ever need them again in the future.
If you live in the Denver area and have had your roof damaged by hail, contact Northern Lights Exteriors to schedule a free roof inspection. We're a storm damage repair company that has been renovating local homes since 2001, and we have hundreds of online reviews testifying to the incredible quality of our services.